Description
Introduction
TMGate™ EIP3000 gateways provide Ethernet/IP-to-DF1 protocol conversion for users who need to connect Allen Bradley PLCs to an EtherNet/IP network. With a number of innovative functions, the MGate™ Series overcomes the difficulties of connecting between legacy serial devices and SCADA software. Both 1 and 2-port gateways are available for use with different-sized control networks.
Protocol Conversion between DF1 and EtherNet/IP
By supporting PCCC objects on CIP, the MGate™ EIP3000 can communicate seamlessly with SCADA software such as RSLinx. For users who develop control software based on EtherNet/IP, the MGate EIP3000 offers the standard interface for connection.
Support for Multiple EtherNet/IP Connections
MGate™ EIP3000 gateways support up to 16 EtherNet/IP clients and servers simultaneously. Each client can send up to 16 requests at a time, and the multiple connection capability can help establish redundancy for more complex control systems.
Windows Utility for Easy Configuration and Traffic Monitoring
Moxa provides a user-friendly Windows utility with multi-language support. The utility supports a traffic monitoring function for EtherNet/IP and DF1 protocols, and not only logs events initiated by the gateway, but also records all commands and responses that pass through the gateway. The utility helps users determine the root cause of failures and performance bottlenecks.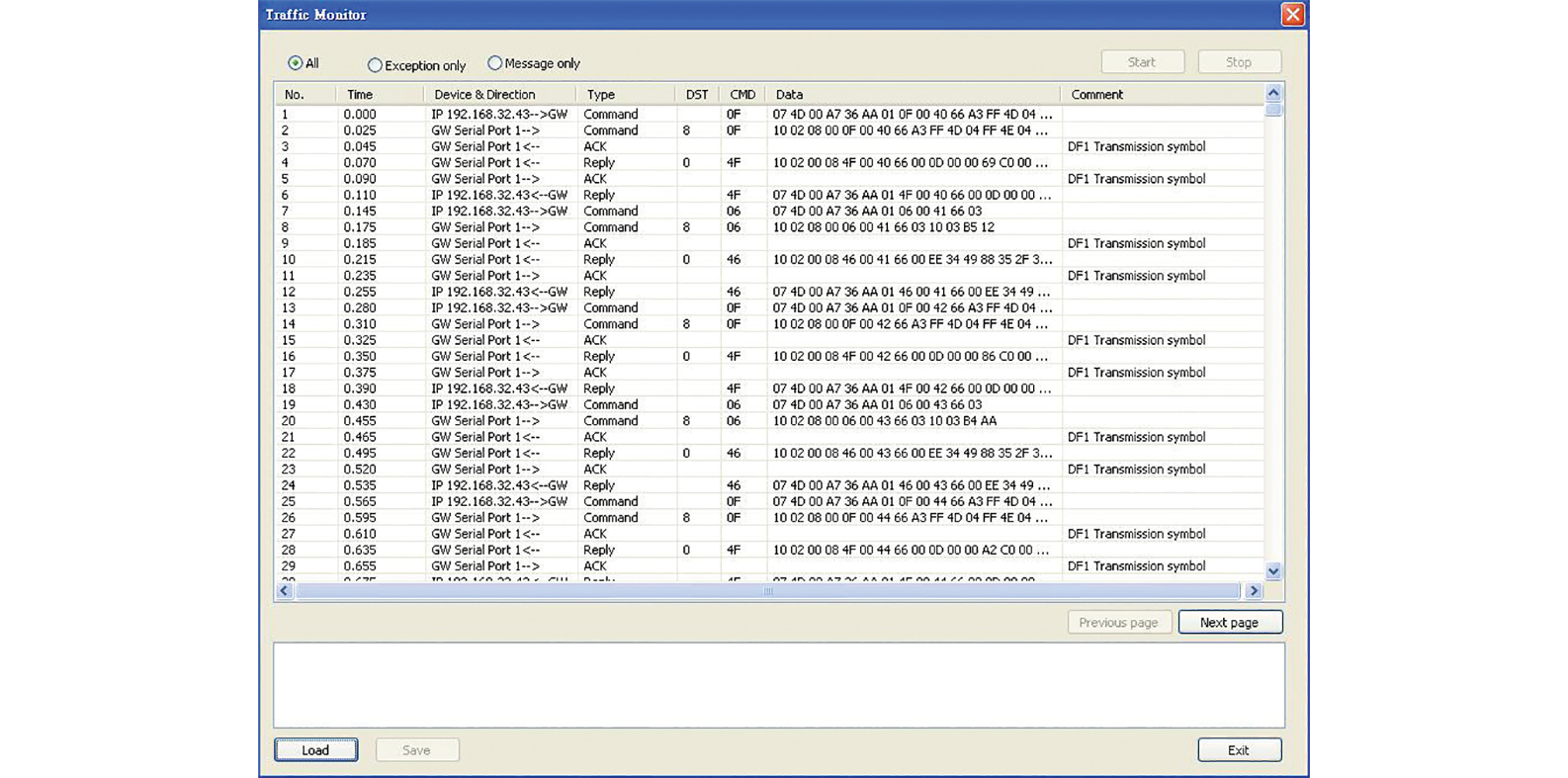 Serial Redirector Function Maintains Original Master/Slave Connections
The serial redirector function allows the commands of a serial master (command initiator) to be redirected to the serial slave (command executor) on another port. In addition, a serial master can operate simultaneously with EtherNet/IP masters without changing the DF1 architecture or software. With the serial redirector function, MGate™ EIP3000 gateways can establish redundant control of legacy slave devices that were originally designed to be controlled by a single serial master.
ProCOM Implements Control via COM Port Mapping
Each MGate™ EIP3000 gateway supports virtual serial ports for the remote PC. You can connect to the MGate™ EIP3000 through the COM port by using Moxa's Real COM driver, with the actual physical connection over the Ethernet. The gateway supports up to four virtual COM port connections and offers greater flexibility when designing redundant control systems.
Pull High/Low Resistors and Terminator Selection
When using termination resistors to prevent serial signal reflection, it is important to set the pull high/low resistors correctly so that the electrical signal is not corrupted. Since no set of resistor values is universally compatible with all environments, the EIP3000 has DIP switches on the bottom panel for setting the termination and pull high/low resistor values.
Built-In Isolation
Complex device networks that incorporate high amperage devices could be subject to electrical signal distortion from electrical discharges, magnetic noise, or common mode transients. MGate™ Series products solve this problem by using built-in optical isolation.